October has historically been associated with orange, the color of pumpkins, but for some three decades, it has been the month during which pink prevails. This feminine color symbolizes Breast Cancer Awareness Month, a 31-day period that lends itself to fighting this dreaded disease.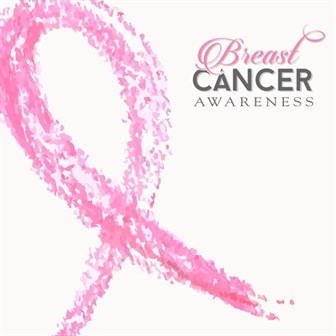 Among women in the United States, breast cancer is the most common of the lethal malignant diseases, with some 250,000 cases being diagnosed every year. Approximately 40,000 of these cases will eventually prove fatal to the affected person. Largely unknown is the fact that around 2,500 American men are diagnosed with breast cancer every year, with some 20 percent of them eventually dying of the disease. The prevalence of the disease accounts for the vital role of Breast Cancer Awareness Month.
Largely through the efforts of the American Cancer Society (ACS), National Breast Cancer Awareness Month was established in October 1985. This worldwide movement is marked by various public events, by the placement of pink ribbons on a variety of consumer products and by the appearance of pink lights shining at important landmarks. The first stamp to commemorate the month was issued in 1996. Pink is particularly noticeable at NFL games throughout October, the color being worn in various forms by players, cheerleaders, and fans. Greater public awareness of the disease is thought to be at least partially responsible for a reduction in breast cancer deaths, with the decline starting only a few years after initiation of the monthly event. Although most adult Americans are today familiar with the observation, Breast Cancer Awareness Month continues to play an important role in enlightening the public on this issue. This is because many women continue to avoid or at least delay getting regular mammograms, which are essentially X-ray examinations designed to detect the beginnings of cancer in the breast tissue.
ACS continues to emphasize the importance of prevention when dealing with breast cancer. Women can reduce the chance of developing the disease by moderating their consumption of alcohol, controlling their weight and by remaining physically active. Other external factors that increase the risk of breast cancer include hormone therapy, which some women receive to reduce the effects of menopause, and the use of contraceptives. Heredity may play a role in as many as 10 percent of the cases, which make regular medical examinations even more important for women who come from families that have a history of the disease.
Whether it be prevention, early detection or merely providing support for women who develop the disease, awareness is fundamental when it comes to fighting breast cancer. This is what makes Breast Cancer Awareness Month so important for both women and men.